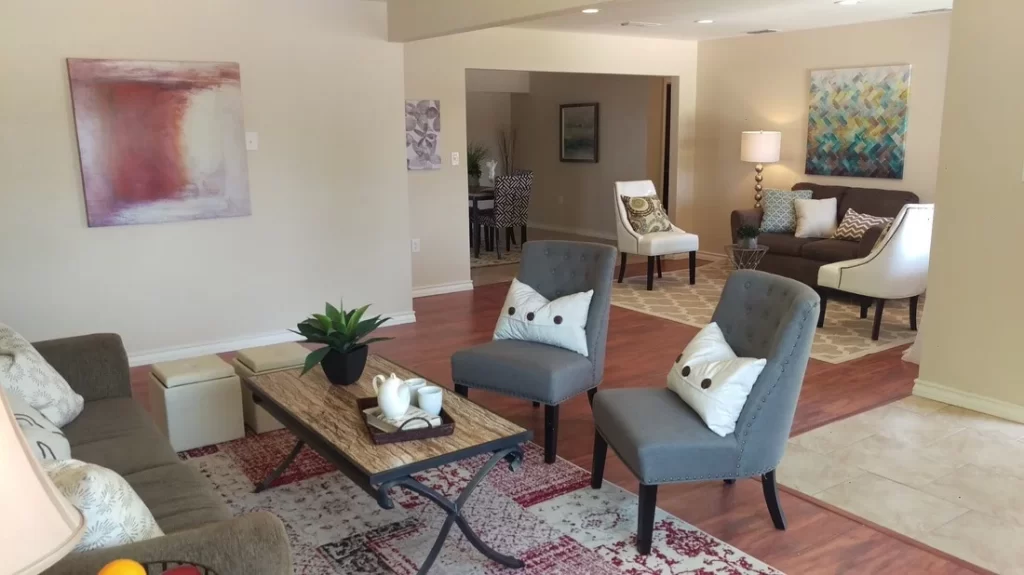 When you're selling your home, you want it to look its best for potential buyers. Whether you're decluttering or swapping out your furniture, home staging can be a great way to get your property sold faster and at a higher price.
Staging your home can be a time-consuming process, but it's worth the effort to get your home ready for the market. Read on to learn about the benefits of home staging, as well as how much it costs and whether it's worth it for you.
1. Increased Offers
When a home is staged, it can create a sense of warmth and comfort that leads to increased offers. This is because buyers will picture themselves living in your house, making them more likely to be committed to buying the property and to increase their offers.
Buyers and their real estate agents also prefer to see a well-staged home in terms of its decor and layout. They want to know that the home is clean, organized, and has an open concept layout that makes it feel like a good fit for their lifestyles.
A professional stager will know what buyers are looking for and how to accentuate your best features to make them shine. They will help you get rid of outdated window treatments, remove furniture that doesn't match the style of the room, and change wall coverings to let more natural light in.
Staging can be an investment, but it's well worth it if you want to sell your house fast and for top dollar. According to a 2021 NAR report, staging can increase the offer amount by a range of 1 to 5 percent compared to homes that aren't staged.
Another benefit of home staging is that it can decrease the time your home is on the market. This can save you money and allow you to spend less on added expenses such as a rental while you wait for the sale to complete.
The NAR report found that staged homes were on the market for significantly shorter times than non-staged homes. This is because buyers have more time to research the home and make decisions about whether they're interested in purchasing it.
In addition, a staged home will also help prospective buyers visualize what it would look like if they were to move in immediately. For example, they can imagine if the master bedroom could fit a king-sized bed and if the dining room will accommodate their needs for entertaining.
Although it can cost a lot of money to hire a home stager, many sellers can negotiate with them to reduce costs by only having certain rooms of their home staged. For example, they might ask a stager to rent furniture for the kitchen and living room but do some of the work themselves in other areas of the home.
2. Less Time on the Market
Staging your home is an essential part of the real estate selling process. It can help you find a buyer who wants to move quickly and offers enough money for your home.
A professional home stager will make your house stand out from the rest of the competition by removing clutter, improving the look of rooms and making your property feel more like a brand-new home. They also know which type of buyer is most likely to buy your home and how to appeal to that person in order to sell it for top dollar.
One of the most well-known benefits of staging is that it will reduce the amount of time your home spends on the market. This means that buyers who see your home will be able to make an offer quickly and without the need to have a lengthy negotiation period.
According to a study from the Real Estate Staging Association, homes that are staged spend 72% less time on the market than unstaged homes. This can make a huge difference in the amount of money you end up making from your sale.
Another benefit of home staging is that it can increase the value of your home. The National Association of Realtors found that homes that have been staged increase their dollar value by anywhere from 1 to 10 percent, compared to similar unstaged homes.
The NAR study also found that home staging can increase a buyer's perception of the value of your property by up to 5 percent, compared to similar unstaged properties. It's important to remember that this figure can be significantly higher than the actual increase in the home's value.
Furthermore, a professionally staged home is more photogenic than an unstaged home. This makes it easier for prospective buyers to envision their lifestyle in your space.
The National Association of Realtors also reported that a professionally staged home is more likely to have multiple offers. This is because a professionally staged home will be decorated to appeal to the tastes of most potential buyers, and will help them see themselves living in it.
3. Less Competition
Having your home professionally staged is a great way to help prospective buyers see your home in its best possible light. This makes it easier for them to imagine themselves living in the space, which increases the likelihood that they'll make an offer.
Whether you're a homeowner selling your first home, a real estate agent trying to close a deal or a buyer searching for the perfect home, professional staging is a great way to set yourself apart from the competition and ensure you sell your home quickly for a good price. Staging can be a significant investment, but you can rest assured that your money will be well spent.
The biggest benefit of home staging is that it helps your home stand out among a wide range of other similar listings in the market. This makes it much more likely that you'll get an offer over the asking price, a situation which can be especially advantageous in competitive markets like Texas and Florida.
A professionally staged home will also look cleaner than an unstaged one, removing dirt and clutter that can be a turnoff to buyers. The furniture in a staged home will be cleaner, as well.
This is important because most people want to feel that their new place has been cared for and looks clean. The lack of clutter and dirt can help potential buyers picture themselves in the space, a factor which can influence their decision to buy a property.
Even in a seller's market, homes that have been staged are worth more than their unstaged counterparts, according to the National Association of Realtors. In fact, it's estimated that staging could increase your sales price by up to 5%.
In addition, home staging is a great way to attract attention from online users who are looking for houses in your area. A properly staged home will look much more appealing on websites, making it more likely that potential buyers will find it online and then see it in person.
Having your home professionally staged is an excellent investment in any market. This can be a huge boost to your home's value, and will pay for itself in a hurry!
4. More Money
Home staging is an excellent way to attract more buyers, and it can also help you make money on your property. Studies show that professionally staged homes are more appealing to buyers and tend to sell at a higher price than comparable properties without staging.
Staging is an investment, and it can be time-consuming, but it can pay off in the end. It will help you meet two goals that most home sellers have: to get a high price for their property and to get it sold quickly.
If you have the time and the inclination, it's a good idea to hire a professional to stage your home. These stagers can arrange your furniture in a way that will appeal to the most potential buyers. They can remove personal items like family photos and signs with your last name, so that the space is as neutral as possible.
In addition, a stager will know how to highlight the best aspects of your home. For example, a dining room with plenty of natural light is often more attractive than one that's dark and dingy.
A stager can also encourage you to declutter and clean your home before staging it for sale, which can increase the amount of money that you get for your property. This includes removing unnecessary clutter and cleaning behind furniture.
According to the National Association of Realtors, homes that have been staged tend to receive offers at a higher price than similar listings that haven't been staged. This is because it will be easier for a buyer to visualize their belongings in the space, so they can better decide whether or not it's a good fit for them.
The cost of home staging will vary depending on the location and size of your home, but it's a smart investment that's worth the money. Plus, it can help you meet a goal that's essential to every real estate agent: getting more money for your property.
You can stage your home on your own or hire a company to do it for you. If you don't have the budget for a professional, you can opt for virtual home staging, which involves taking pictures of your property and using software to add furniture and decor in them. These services are typically around 10% of what a physical stager would charge.