Roof Terrace Ideas to Make the Most of Your Garden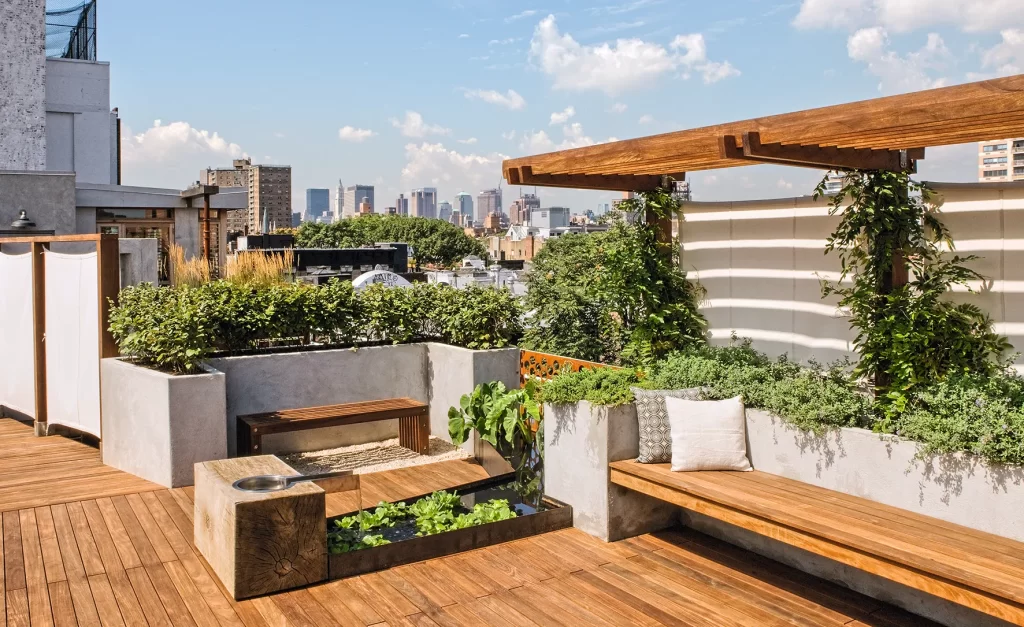 Creating a roof terrace is an excellent way to make the most of your garden and add to the look of your home. Creating a roof terrace can include a variety of options, including furniture, plants and Jacuzzis. Here are a few ideas to get you started.
Furniture
Whether you have a small or large roof terrace, you can turn it into a relaxing outdoor retreat. The right furniture will add to the comfort and functionality of the space.
Besides, the roof terrace is a great place to entertain guests. In fact, a rooftop terrace can be converted into an outdoor kitchen, a dining area, and a socialising area. Regardless of its size, you should think about the furniture, lighting, and plants you add to the space.
For instance, a fire pit can be a great feature. You can also add a movie screen to your summer get togethers. Besides, a fire bowl will make the evenings on a large roof terrace even more enjoyable in the fall.
Besides, you can also make use of a large awning during the day. It can be folded when not in use. Moreover, you can also install a shade sail to block the sun and provide privacy.
The best rooftop terrace design is the combination of wood and steel. Wood provides warmth and is also weather resistant. However, you should keep in mind that wooden beams around the perimeter may get wet in heavy rains.
Pergolas and gazebos
Whether you are looking to improve your outdoor living space or you're building your own home, pergolas and gazebos can offer an elegant, functional way to add shade to your outdoor patio. There are a number of different types of structures, and it's important to know the differences between them so you can choose the right one for your needs.
One of the most common types of pergolas is the wooden pergola, and it's considered one of the most elegant outdoor structures. The roof is usually made of latticework or PVC, and it provides shade.
Pergolas are also used to support climbing blooms in backyard gardens. They are a great addition to any backyard, especially if you have greenery. They may be attached to the house, or they may be freestanding. They can also house a gate or a fence.
Gazebos, on the other hand, are a type of freestanding structure that offers shade and shelter from the weather. They are usually octagonal in shape, and are supported by a few columns throughout the structure. The roof is usually pitched, and there are sometimes railings around the sides.
Plants that will grow nice and big
Whether you're looking to create a vegetable or flower garden, plants that will grow nice and big for roof terraces are a great choice. Not only do they add beauty to your terrace garden, but they also are easy to care for.
You'll want to consider your terrace garden's exposure to sunlight, as well as the amount of shade available. Also, you'll need to consider seasonal preferences. If you want to have flowers in your garden all year long, then you'll want to consider planting annual flowers.
You can also try growing herbs. Unlike plants that need to be watered frequently, herbs need little maintenance. Besides, herbs are a great addition to a rooftop garden.
You may also consider growing a climbing hydrangea. Climbing hydrangeas grow up to 60 feet high. They also produce delicate white flowers. This type of plant is low maintenance and is approved for hardy Zones 4-8.
Cacti are also a great option for your terrace garden. These plants require little maintenance, but need to be exposed to full sun. They're also known to survive in harsh conditions.
Jacuzzi
Creating a roof terrace for a hot tub can be a great way to enjoy the outdoors and entertain guests. These terraces offer a panoramic view and a place to relax. They can be built to incorporate many different features. There are many ideas to consider for creating a deck that will match your needs and style.
Many rooftop deck ideas aim to maximize the views. These decks are perfect for pool parties or for a Sunday afternoon spent soaking in the sun. The deck itself offers simple, modern features that will complement the decor of your home. It can also be designed to include seating, a grill, and outdoor dining areas.
A sunken hot tub deck can make it easy to access and exit the hot tub. It also allows for easier access to system parts. The deck can also be used as a surface for drinks and towels.
Another design features a multi-level deck that allows for the hot tub to be a main focal point. The deck is built to be level, allowing for easy access to both levels.